The event for the song Happy♡Merry was held from December 15-22 2016. It was the thirteenth event in the game (and the third team competition event).
The token for this event was bells (Ja: ベル).

After the event (December 25-30), a version of Happy♡Merry performed the winning team (Mei and Hinata) was made available to play. The winning team also had special SR and R cards made featuring artwork of them.
Teams
[
]
Hotaru, Akari, and Anri: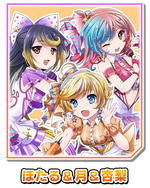 Yukina, Suzune, and Ayame: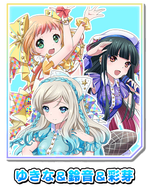 Mei and Hinata: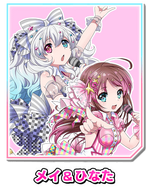 Card Rewards
[
]
[Christmas] Ayame (with art of both Ayame and Anri) (SR) (Card #231)
[Christmas] Hotaru (with art of both Hotaru and Akari) (SR) (Card #232)
[Christmas] Mei (with art of both Mei and Yukina) (SR) (Card #233)
[Happy♡Merry] Mei (with art of both Mei and Hinata) (R) (Card #234)
[Happy♡Merry] Mei (with art of both Mei and Hinata) (SR) (Card #235)