Note that this page is not currently being updated. Anyone is free to update it if they wish to do so.
More timely news updates are often posted to the subreddit.
This page will be mainly used for game updates (i.e., version updates and flash sales).
The date format used is DD.MM.YYYY.
All times are in JST (GMT+9) unless otherwise stated.
New Song + Event Announced! Starts August 5th
A new song, "Lovely Summer", will be added and the first "team competition" event will start on on August 8.
Details have been translated
on reddit
.
Special Gacha Ticket + Jewel Packs on Sale
Packs first mentioned alongside the new update are now for sale.
4500 yen gets you 380 core jewels and three SR tickets, while 9800 yen gets you 880 jewels and a UR ticket.
UR Gacha Rates Increasing For August!
Because August is the 8th month (and the name of the game is 8 beat Story), UR Gacha rates will increase for the entire month!
Incoming "Pirates" Gacha Series
A new pirate-themed gacha series is starting at 6pm on August 2.

UR Cards: Akari, Yukina

SR Cards: Ayame, Hotaru
New Update Released
The previously mentioned update has been released. Rika Tachibana takes the role of
the director
.

Additionally, a beginners pack has been added to the store and another special pack will be added on August 2nd. These packs will allow gacha tickets to be obtained.
UR gacha probability will also increase for the month of August (because August is the 8th month).
Mei's Birthday
July 28th is Mei's birthday! Login from July 28th to August 1st to get Core Jewel bonuses. A special solo version of BoyFriend will be available to play as well.
Details on the Next Update Released
A new update is coming sometime this week. It brings changes to gacha mechanics and will add performance by the seiyuu Rika Tachibana (unknown character) to the game.
Full details have been translated on reddit (
https://redd.it/4updtk/
).
Data Transfer Functionality Restored
Data transfer has now been re-enabled. 21 core jewels have been given to players as an apology for the time taken to fix the issue.
New Content Arriving Next Week
According to
a tweet from @8beatstory
, there will be at least one new item and at least one new feature coming to the game next week. The voice actress Rika Tachibana is also scheduled to make her debut in the game as an unknown character next week.
New Game Update (Bug Fixes)
Another game update has been released to fix some bugs. Also, data transfer (which was disabled due to issues) will be re-enabled early next week.
Bugs fixed (Android version):
Fixed a bug that lives would stop when paused.
Fixed an issue with data transfer in certain environments.
Fixed issues with indicators (e.g. friend request counters) in various places.
New Game Update
An update to the game was released! Info on new features was tweeted on July 15 (linked and translated in
this reddit post
)
New Event: "Sore Yuke! Otome no Mission"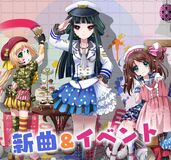 A new event started at 6pm on this day!
https://twitter.com/8beatstory/status/754623514238341120
This event has 3 military-themed SR card rewards (the ranking reward is Ayame, while Hinata and Yukina are point rewards).
Of course, as with other events, a new song was added as a part of it.
Two Month Commemoration Sale
A Core Jewel Sale to commemorate the two month anniversary of 8 beat Story has started! Get 250 Core Jewels (enough to do one pull) for 960 yen instead of the usual 3000 yen price! You are only able to purchase Core Jewels for that amount once though! This sale ends on 18.07.2016 at 6PM JST. Get it while it lasts!
Marine Set Scouting has begun!
A new Marine scout has started! Scout for a chance to get a UR Marine Suzune, UR Marine Mei, SR Marine Hinata, or SR Marine Ayame.
Community content is available under
CC-BY-SA
unless otherwise noted.